I have a lot of time on my hands. With no NBA on, and probably no shot of their season resuming this year, I wanted to do a little project to spark some debate and have some quality fun. I've seen a ton of people do all-time franchise teams in the past. While that is definitely fun to compile and the teams would be way better, I'm not going to pretend like I watched any of those players. I'm 22 years old, I don't admire the game of John Stockton and I wasn't actively routing for Dr. J. As you'll see, this will really hurt some teams in here I struggled to even name five starters. For that reason though, this is the last 10 years of NBA ball.
Rules:
Each team get's a starting five and a sixth man from the last 10 years (2010-2020 season.) We're allowed to play around with lineups to fit the modern NBA style, so we don't necessarily need a pg, sg, sf…etc. Each player we select has to have finished a complete season with their team. So Jimmy Butler can (and will) be on the Sixers lineup, but not the Heat. Similarly, Durant or Kyrie cannot count for the Nets (sorry nets fans.) Lastly, the player that we select is their form when they actually played for that selected team, not their best years. So Garnet would ideally be on the Celtics, not staring in the new bug-out Sandler movie Uncut Gems, or the Nets again. There will be a ton of overlap here obviously, and again: THIS SEASON DOES NOT COUNT BECAUSE IT WAS NOT A FULL SEASON.
Thanks to all the people that helped me form these squads because while I am a huge hoops fan, I don't necessarily remember how many rebounds Zach Randolph had in 2014. Also, after doing some reasarch, I think Jason Terry played for every team in the NBA.
Here we go…
Atlanta Hawks:
Trae Young
Joe Johnson
Josh Smith
Al Horford
Paul Millsap
6 man: Jamaal Crawford
Boston Celtics:
Kyrie Irving
Paul Pierce
Ray Allen
Jayson Tatum
Kevin Garnett
6 man: Al Horford/ Rajon Rondo
Brooklyn Nets:
DeAngelo Russell
Joe Johnson
Caris Levert 
Jarrett Allen
Brook Lopez
6 man: Deron Williams 
Charlotte Hornets:
Kemba Walker
Gerald Henderson
Jeremy Lamb
Nicolas Batum
Al Jefferson
6 man: Terry Rozier
(This is possibly the worst team. I struggled to find anyone relevant to plug in here.)
Chicago Bulls:
Derrick Rose
Jimmy Butler
Loul Deng
Joakim Noah 
Carlos Boozer
6 man: Dwayne Wade/ Kirk Hinrich/ Pau Gasol
This team is dangerous.
Cleveland Cavaliers
Kyrie Irving
LeBron James
Kevin Love
Tristan Thompson
Zydrunas Illgauskas (Big Z!)
6 man: Deon Waiters
Dallas Mavericks:
Jason Kidd
Luka Doncic
Shawn Merion
Dirk Nowistki 
Tyson Chandler
6 man: OJ Mayo
Denver Nuggets: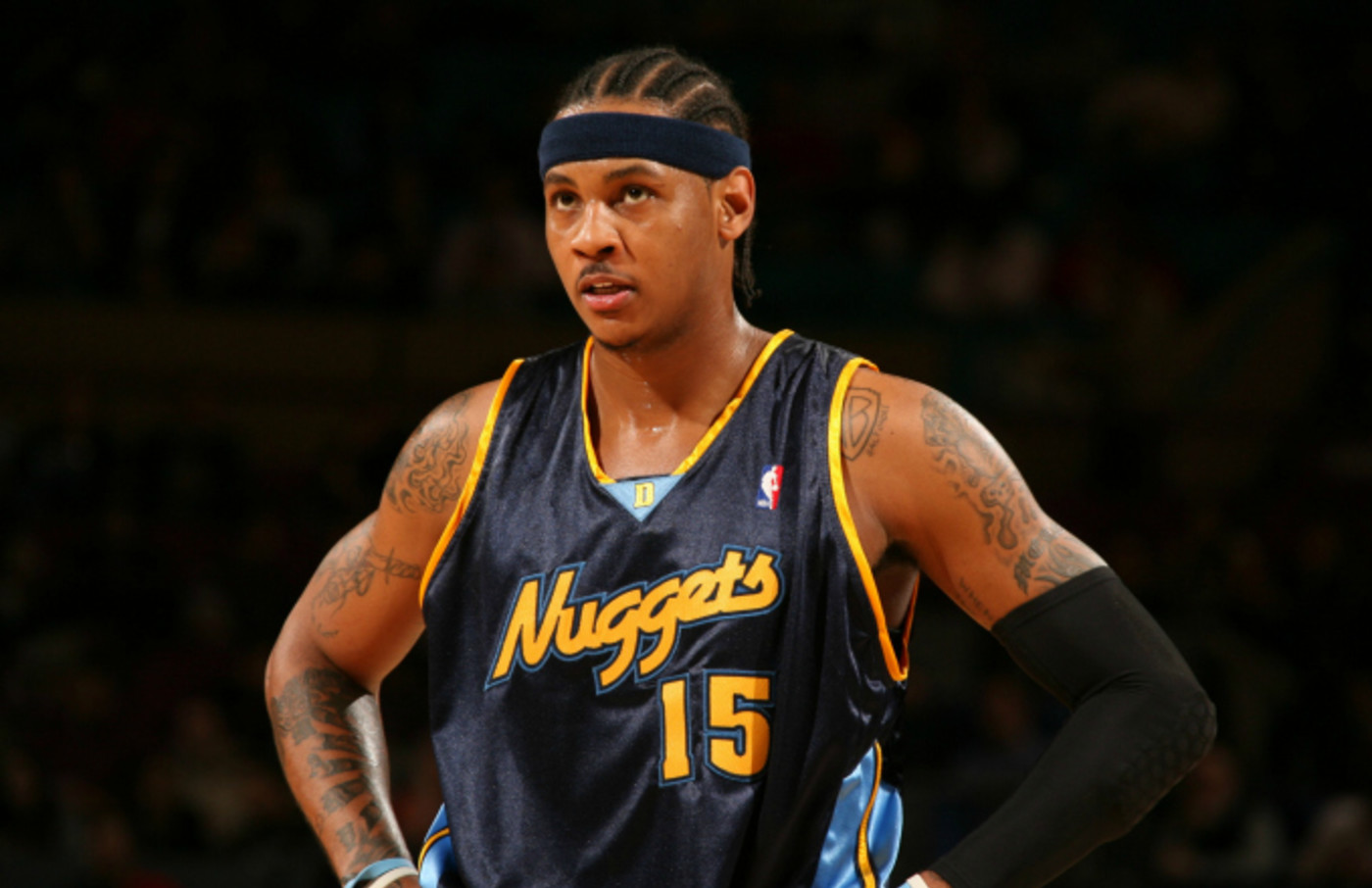 Jamal Murray
Ty Lawson
Carmelo Anthony
Nikola Jokic
Nene
6 man: Jameer Nelson/ Paul Millsap
Detroit Pistons:
Ben Gordon
Kentavious Caldwell-Pope
Tayshon Prince
Blake Griffin 
Andre Drummond
6 man: Marcus Morris/ Brandon Jennings
(Unfortunately the Pistons have been a joke since 2010, go back a few years and they got a nice squad.)
Golden State Warriors:
Steph Curry
Klay Thompson
Andre Igoudala
Kevin Durant
Draymond Green
6 man: Monta Ellis/ Andrew Bogus
(This was one was pretty simple…)
Houston Rockets:
Chris Paul
James Harden
Eric Gordon
Clint Capella
Dwight Howard
6 man: Trevor Ariza
Indiana Pacers:
Victor Oladipo 
Paul George
Lance Stephenson
Domantas Sabonis
Roy Hibbert
6 man: Danny Granger/ Thad Young
Los Angeles Clippers:
Chris Paul
Pat Beverly
Blake Griffin
Tobias Harris
DeAndre Jordan
6 man: Lou willllll, JJ Redick
(What could have been if this season finished. As a Sixers fan it sucks how nice Tobi was with the Clips.)
Los Angeles Lakers:
Lonzo Ball
Kobe Bryant
Lebron James
Pau Gasol
Andrew Bynum
6 man: Lou Willllllllll/ Kyle Kuzma
(wow..)
Memphis Grizzlies:
Ja Morant
Mike Conley Jr.
Rudy Gay
Marc Gasol
Zach Randolph
6 man: Josh Jackson/ Chandler Parsons
Miami Heat:
Goran Dragic
Dwayne Wade
Lebron James
Chris Bosh
Bam Adebayo 
6 man: Ray Allen/ Shane Battier
Milwaukee Bucks:
Brandon Jennings
Malcolm Brogdon
Khris Middleton
Giannis Antetokounmpo
Andrew Bogut
6 man: Brook Lopez/ Jabari Parker
Minnesota Timberwolves:
best friends…..
Ricky Rubio
Andrew Wiggins
Jimmy Butler
Kevin Love
Karl Anthony Towns
6 man: Al Jefferson/ Zach Lavine
New Orleans Pelicans:
Jrue Holiday 
JJ Redick
Eric Gordon
Julius Randle
Anthony Davis
6 man: Lance Stephenson/Julius Randle
(I don't even really know how this works with the hornets or whatever, so I'll keep Cp3 out of here, he's been on enough teams anyway. Sucks that Zion didn't get his full season.)
New York Knicks:
(Linsanity!!!!)
Dennis Smith Jr. 
Jeremy Lin
Carmelo Anthony 
Amar'e Stoudemire
Kristaps Porzingis
6 man: Marcus Morris
Oklahoma City Thunder:
Russell Westbrook
James Harden
Paul George
Kevin Durant
Serge Ibaka
6 man: Steven Adams
(yeeeeeeeesh.)
Orlando Magic:
Jameer Nelson
JJ Redick 
Rashaad Lewis
Nikola Vucevic 
Dwight Howard
6 man: Aaron Gordon
Philadelphia 76ers:
I'm sure I'll have some chirps for this one.
Ben Simmons 
Jrue Holiday
Jimmy Butler
Andre Igaudala
Joel Embiid 
6 man: Josh Richardson/ Iverson when he came back for his last season..love that guy. 
Phoenix Suns:
Devin Booker
Steve Nash
PJ Tucker
Markieff Morris
DeAndre Ayton
6 man: Miles Plumlee/Gerald Green
Portland Trail Blazers:
Damian Lillard
CJ McCollum
Brandon Roy
Jusuf Nurkic
LaMarcus Aldridge
6 man: Meyers Leonard
Sacramento Kings:
De'Aaron Fox
Rajon Rondo
Omri Caspi
Tyreke Evans
DeMarcus Cousins
6 man: Marvin Bagley/ Isiah Thomas
San Antonio Spurs:
Tony Parker
Kawhi Leonard 
Manu Ginobili
DeMarcus Aldridge
Tim Duncan
6 man: DeMar DeRozan/ DeJounte Murray
(these guys were definitely older but definitely still balling.)
Toronto Raptors:
Kyle Lowry
Kawhi Leonard 
DeMar DeRozan
Chris Bosh (last season before Miami) 
Pascal Siakam
6 man: Bismack Biyombo/ Jonas Valanciunas
Utah Jazz:
Donovan Mitchell 
Gordan Hayward
Kyle Korver
Rudy Gobert (Corona spreader) 
Derrick Favors
6 man: Raja Bell (just remember this guy for some reason, don't really care about the Jazz bench.) 
Washington Wizards
John Wall 
Gilbert Arenas (2010 was last year with Wiz before gun situation.)
Bradley Beal
Davis Bertans
Trevor Booker
6 man: Swaggy P
Latest posts by panithekid
(see all)