Hello race fans, gambling fans, and especially fans of gambling on racing, we are back and boy do we have a busy weekend of motorsport! F1, NASCAR, IndyCar, and I don't have lines for IMSA but I'll probably watch some of IMSA action at Laguna Seca because I am a nerd for all of this stuff. 
Before I get into the weekend's fun, let's recap our last picks, which were partially hurt by Brad Keselowski getting wrecked and DNF'ing, and the F1 washout at Spa a few weeks ago pushed the F1 bets.
Brad Keselowski to win NASCAR Cup Series race +1300: LOSS
Keselowski head to head over Austin Dillon -110: LOSS
Bubba Wallace head to head over Ryan Newman -120: WIN
Bubba top 10 +110: WIN
As stated in the last blog, Keselowski creates chaos, so naturally he DNF'd at Daytona. Part of the highs and lows of superspeedway racing I suppose. Where we get our money back here is Bubba Wallace, who not only came good at Daytona but survived the big wreck on the final lap and crossed the start/finish line third! He would be awarded second after the second place driver failed post-race inspection. 2-2 on the race. We move onward.
The F1 bets all pushed with the Spa "race" not actually being much of a race, so we're just even on the weekend. For those who didn't have the chance to watch for themselves, torrential rain in the Belgian hillside forced the race to be delayed repeatedly, and two laps were ran behind a safety car under a yellow flag to classify the event as a "race", which technically gave Max Verstappen a free race win.
It became clear during the delay that FIA, F1, and frankly everyone involved had no actual plan for a rain delay despite rain being forecast all weekend. In the past, F1 probably would have run a race in those conditions, and the race would have been a mix of boring and very dangerous, which isn't necessarily great television.
Instead, there was no race at one of the sport's most iconic circuits; and fans who stayed through the delay paid for a race that didn't happen. Lewis Hamilton called for refunds to be given to fans, but F1 doesn't seem too determined to make that a reality.
This weekend, F1 is in Italy at the Temple of Speed, Monza, for the Italian Grand Prix. While Max Verstappen was a comfortable race winner at his home track in the Netherlands at Zandvoort, one key factor from that race set the tone for this weekend's action: straight line speed.
While Verstappen's Red Bull was quicker around the lap, it was Lewis Hamliton and the Mercedes which was quicker on the straights and around the fast corners, such as the infamous Zandvoort banked last turn. Monza, being all about straight line speed, suits Mercedes right down to the ground, and betting lines and early qualifying sessions have reflected that.
In Friday's qualifying, the Mercedes was about a half second quicker than Max Verstappen and his Red Bull, with Valtteri Bottas grabbing the "Speed King" award for fastest in qualifying on a weekend of a sprint race, and gets a lovely mini tire for his efforts on Friday.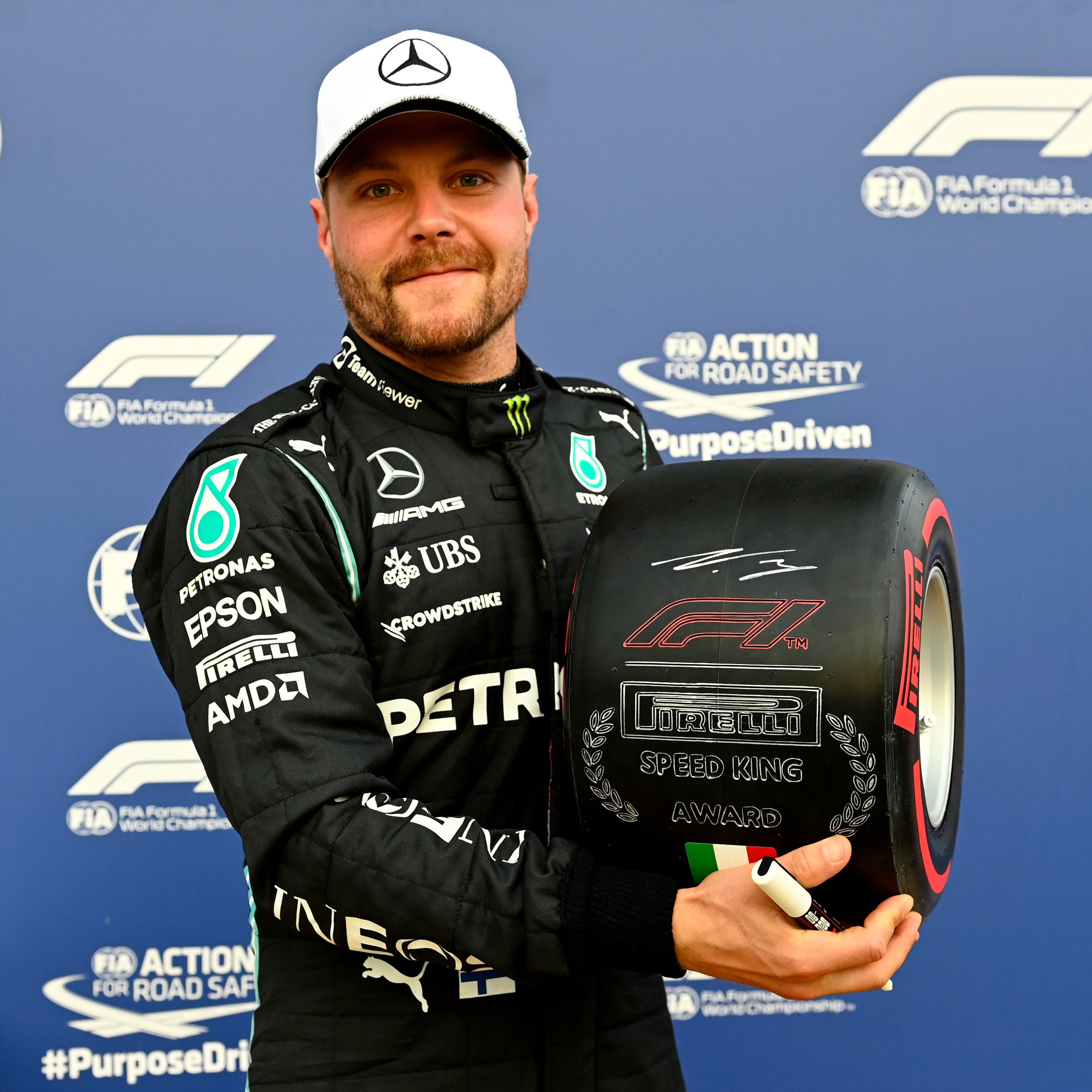 Bottas's Mercedes was outfitted with fresh engine upgrades for this weekend, so he will start Sunday's Italian Grand Prix from the back of the grid, but since the 45 minute sprint race on Saturday is technically the final qualifying session for Sunday's full-length race, Bottas will start the sprint from the front, alongside teammate Lewis Hamilton, with Verstappen and Lando Norris on the second row. The sprint race starts at 10:30 am eastern time, so you can get it in before the day of college football starts.
With a fresher engine than his teammate, and maybe a little something to prove on his way out of Mercedes, I like Valtteri Bottas in the sprint race at +185 starting from the front. Bottas will be leaving the team for Alfa Romeo following this season, as George Russell will be joining the Mercedes team alongside Hamilton.
Russell's move to Mercedes has basically been set in stone for something like a year and half now, but the announcement still gives the British teens that make up F1 Twitter something to be excited about. 
Lewis Hamilton is a fairly large favorite to win the Italian Grand Prix, from anywhere -170 to over -200, and even at that number, I think you take Lewis over the long race. Mercedes has had the speed, and Monza is all about speed. Don't overthink it, the fastest car wins at Monza, and even the Red Bull team seems to concede that the Mercedes is faster this weekend.
I know taking a -170 favorite isn't the most fun play in the world, so let's make a fun pick here: Ferrari first to retire +900. Ferrari's home grand prix, all the pressure on the team to make a good impression, and some engine troubles in qualifying, a perfect storm to blow up in the team's face, and if you wanted to go one step further, specifically Charles Leclerc to retire, is a fairly tempting +1800.
Going back to betting on fast cars, I love the Mercedes double top six at -110, and even though Valtteri is starting from the back, he will be the quickest car on the grid, and can make up the places fairly easily with the speed of his freshly upgraded engine.
Last Italian Grand Prix bet: winning margin over eight seconds -110. Even if Verstappen does get to P2 in the race, I would imagine Red Bull goes for the fastest lap attempt if they are somewhat already conceding that Mercedes is faster over the race.
Okay word count check: 935. To NASCAR we go!
The week that Denny Hamlin's wife publicly left him on Twitter, it's only natural that Hamlin would channel that energy into a race win at the weekend. I didn't have a column last week and I didn't bet on the race because I was drinking beer and watching cricket instead, but Hamlin would have been the play, based on the events of the week. I'm all about betting on vibes and energy. Models and simulations are for the birds.
Saturday's Federated Auto Parts 400 is at Richmond Raceway, one of NASCAR's premier tracks, a short track that doesn't race like any other short track. Unlike the F1 race, odds give us a fairly wide open field here, with Martin Truex Jr. currently a favorite at +550 at the time of writing.
I like the playoff drivers in this playoff round, as shocking as that may seem. For those unaware, NASCAR has a "regular season" and playoffs for the drivers championship. 16 drivers qualify for the playoffs, based on either race wins or points standings if they haven't won a race.
Denny Hamlin's win puts him atop the playoff standings so far, and I like him to continue this form at Richmond. Hamlin is -110 to finish top five, and +200 to finish top three, and I think both are definitely in play on Saturday night.
Kyle Larson is +120 to finish in the top five which I also like, and after slipping a spot in the playoff rankings, will be looking for solid points to try to reclaim the top spot.
My pick for a winner is a driver and car that's had good pace, but just hasn't had the luck lately: Joey Logano. +700 to win, +230 top three, +100 top five. Take one, take em all, I think this race has a great chance to be where Logano and his team's efforts finally come good.
Word count check: 1259. Let's get to an IndyCar pick and lets get out of here while people are still reading this thing.
IndyCar is back in action this weekend after a short break, and Romain Grosjean gets to make more than left turns again, and has excelled race in and race out this year. Grosjean is +100 in a head to head against Alexander Rossi, and I love that number for him in Portland, especially before qualifying where he has been a standout performer.
A lot of plays, and a lot of cars going very fast this weekend, but I'll leave you with a bonus college football play: Colorado State -7 vs. Vanderbilt, buy a half point if you feel like getting under that football number. I cannot recommend actually watching this game if you are not gambling on it.
Football's back, but we're still getting after it on the track over here. Let's go racin'.
Latest posts by Nathan Tucker
(see all)